PRECISION STEEL BALLS
Stainless Steel balls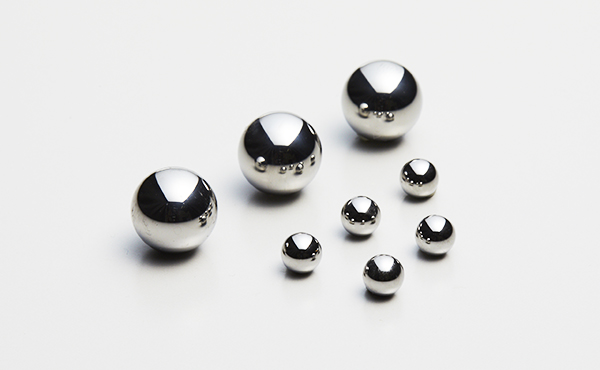 Harsh environments including chemical and food production industries require stainless steel components. Stainless Steel balls are resistant to rust and corrosion that are prevalent in these high temperature and high humidity application conditions.
Stainless Steel Balls (Martensite)
This material is hardened through heat treatment and quenching and has exceptional mechanical qualities that are perfect for applications in ball bearings and valves.
Stainless Steel Balls (Austenite)
Corrosion resistance and nonmagnetic characteristics are achieved without heat treatment demonstrating excellent mechanical features and proven durability in variety of products.
Corrosion Resistance
Solution
SUS440C
(Martensite)
SUS304
(Austenite)
SUJ2
(High carbon chromium
bearing steel)
Hydrochloric acid
★★★
★★★
★☆☆
Sulfuric acid
★★☆
★★★
★☆☆
Sodium hydroxide
★★★
★★★
★☆☆
Note) The above is a ranking and is not recommended for use in liquid.
Mechanical Properties
Material
Specific
gravity
g/cm3
Tensile
strength
N/mm2
Yield
strength
N/mm2
Stretch
%
Hardness
Magnetic
SUS440C
(Martensite)
7.8
-
-
-
HV675
~
HV862


(HRC59~66)

Yes
SUS304
(Austenite)
7.9
520 over
205 over
40 over
HV200
under
No
SUJ2
(High carbon
chromium
bearing steel)
7.8
-
-
-
HV745
~
HV900


(HRC62~67)

Yes