We are a specialized manufacturer of precision balls and rollers as well ball screws and other mechanical parts, headquartered in Nara, Japan.
In addition to Japan, we manufacture in the United States, Italy, Poland, Slovakia, The Netherlands, Bosnia, United Kingdom, China, Thailand, India and Taiwan.
The industry's most well-established production network enables us to respond to various customer needs, local procurement, quick delivery, and superior customer support.
An industry-leading product line-up
We produce a broad range of high-quality precision balls, rollers and ball screws with more than 20,000 product types. Utilizing various materials including ceramics and steels, in a range of sizes to meet our customers' specific requirements. We have been a pioneer in the mass production of ceramic balls utilizing our manufacturing know-how and process technology in various areas. Our development capabilities and industry-leading product line-up allow us to fulfill a variety of needs from global customers, which enables us to support new demands from a variety of end-market products and uses.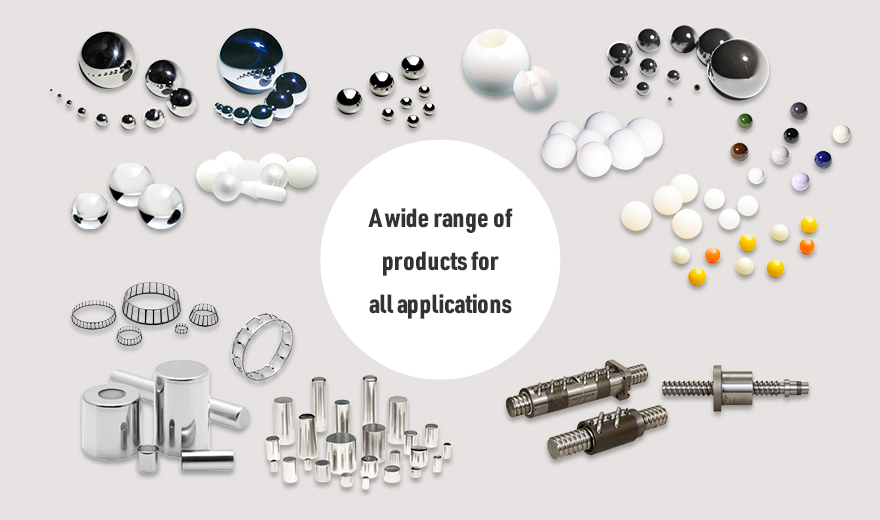 Global well-established production network
Our global manufacturing network and distribution locations enable us to meet customer deliveries on short notice for a wide range of precision products.
Our manufacturing network enhances our ability to manage production and inventory to meet rapidly changing customer needs for various ball/roller sizes and grades in significant quantities. This is our competitive advantage over smaller producers and supports our major customers as they expand their manufacturing operations.
Superior quality and processing technologies based on in-house manufacturing equipment and accumulated know-how
For decades, we have focused on achieving the highest quality in the production of precision balls and rollers(rolling elements). Rolling element quality is essential to the quality of end products. We strive to constantly increase the quality of our products and achieve virtually zero defects. In refining our manufacturing processes, we have developed in-house both proprietary grinding machines to achieve sphericity and our own inspection machines to ensure consistent quality for our customers.

Japan's first manufacturer of ball screws for general industrial use
We manufacture and sell ball screws and ball ways. We are the first company in Japan to produce ball screws for general industrial use.
The products are mainly used in industrial machines, electric injection molding machines, semiconductor manufacturing equipment, industrial robots, and advanced medical equipment. Our flexibility in terms of delivery and design allows us to work together with our customers to realize advanced development initiatives.