BALL SCREWS / BALL WAYS
Ball screw for heavy load
Ball screw for heavy load
Ball Screws for Heavy Loads HN/HJ Series
HN/HJ series are heavy load ball screws designed to replace hydraulic cylinders with electric cylinders, which we have recently standardized. We also offer products with dynamic balance compensation for ball screw and ball nut rotation beyond standard dimensions. Please contact us for more information.
HN Series
Longevity

Specially designed for heavy loads, the load rating is 2 to 3 times higher than that of conventional models.

High Speed Durability

The components of the ball recirculation section are designed to support high loads.

Long Life Under Harsh Conditions

The optional retainer can be used to help prevent clogging and improve lubricant retention.
*A wide variety of products are available with screw shaft diameters from φ50 to φ200.
HJ Series
High Speed Feed and Low Noise

The ball moves in a tangential direction to achieve smooth ball circulation, high speed feed, and low noise.

Compact Design

Compact design with excellent dynamic balance.

High Lead

High lead 50-70mm is available as a standard lineup.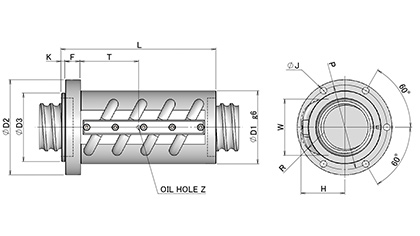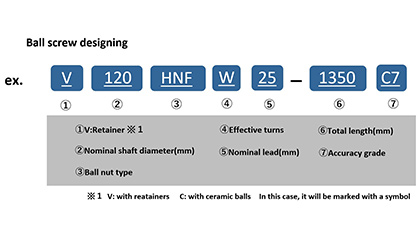 The following is an example. For more information, click on the Size Table.

Please contact us if you plan to use the product in excess of the maximum axial load.